Lake and river environment
Espace Pur >

Lake and river environment



Lake and river environment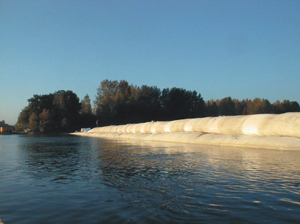 TREATMENT OF SEDIMENTARY DISTURBANCES

Protection of river banks

Regulation of river and of estuary sediment flows

Storm detention facilities, flood
Creation of artificial banks with the STABIPLAGE® The STABIPLAGE® can be used as a core in the construction of dune or artificial banks.
This configuration gives an aesthetic solution and makes safe urban or cultivated areas, liable to flooding.
The absence of banks or their brittleness, often involves submersions from the rivers
This solution which preserves the attraction of the site, guarantees a stable and safe core, ultimate rampart against the flood, even in case of important immersion which would involve the removal of loose materials or embankments.
With the objective of a covering and a vegetable stabilization, the permeability of theworks and the roughness of the cover enable the vegetation to take rootand ensure the requested drainage for the soil's life.